Is it time to think about outsourcing your business's IT?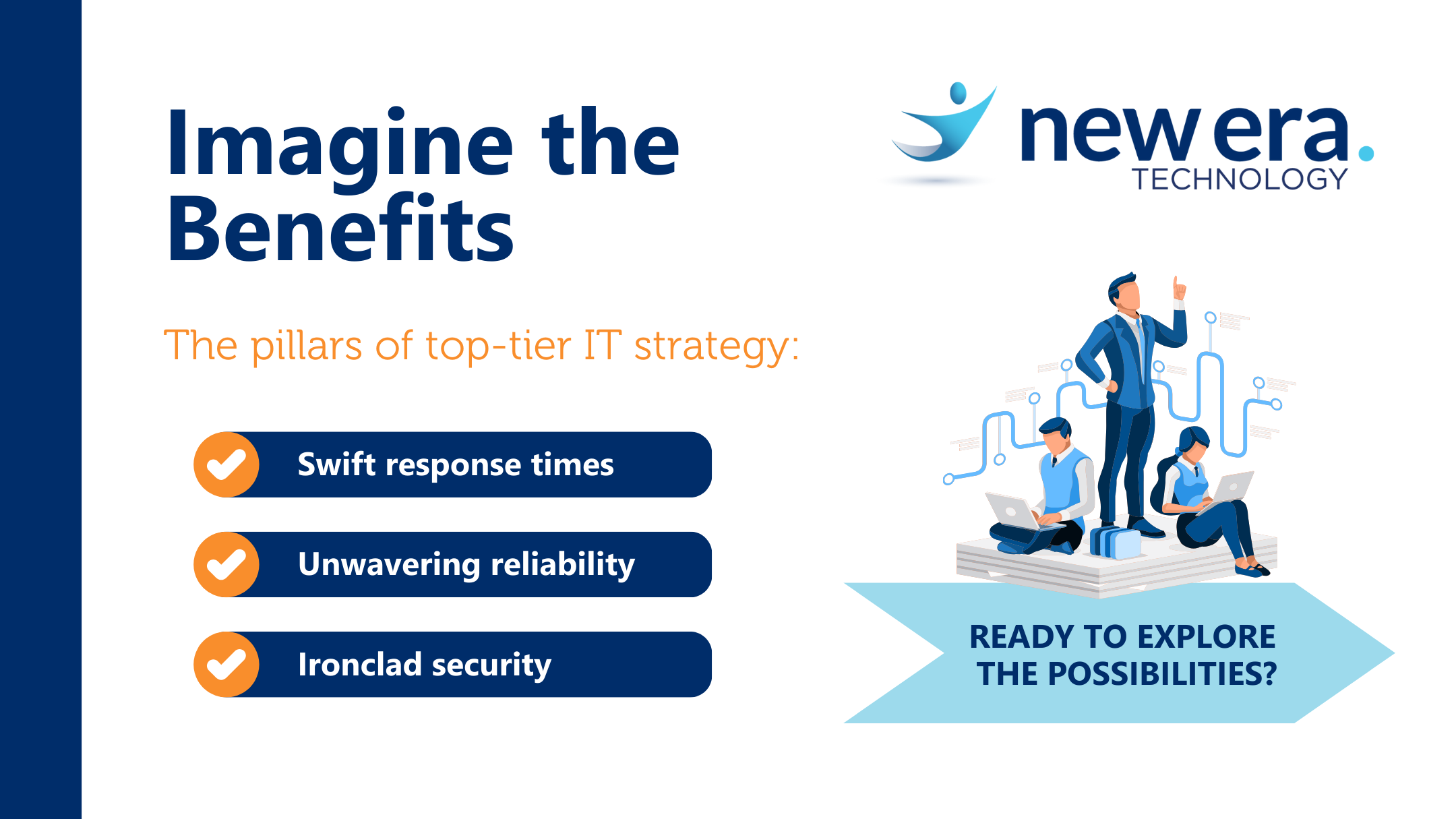 When your team is overextended and grappling with tech issues, mistakes can occur. Data may be compromised, and clients lost. In such situations, in-house IT teams sometimes encounter challenges beyond their capabilities. That's when Managed IT support services step in to save the day.
Read the below signs and see if it's time for your business to look at

 

Managed IT services.
1. There is a Lack of Expertise in the Team
Technology is in a constant state of evolution, making it challenging to keep up with software updates, high-tech programs, new gadgets, and the resultant workflow changes. Even the most capable in-house technicians can encounter ICT problems beyond their expertise. The rapid pace of technological advancements may demand a broader skillset than internal hires can provide. Managed IT ensures you have the necessary expertise for growth without the complexities of hiring and unnecessary costs.
As an IT service provider, New Era Technology offers a comprehensive skill set to address all your IT requirements. Complex issues can be promptly and proficiently resolved by our expert IT technicians. With access to a team of experienced IT consultants, rest assured that your problems will always be swiftly resolved.
2. Your Business is Growing
When your business is expanding and acquiring more customers, hiring additional internal personnel can be both time-consuming and expensive. An IT service provider can readily offer the expertise and insights needed to ensure that your business's IT infrastructure can keep pace with its growth. Managed Service Providers also offer guidance on how to leverage existing or new technology for accelerated growth.
Whether New Era is collaborating with you as a co-pilot or providing you with relevant IT support and services, our team can handle your IT concerns, allowing your staff to concentrate on their work tasks, free from tech issues.
3. You Need Flexible Support
With an in-house IT team, getting the level of support you may need at any time you need can be hard. IT service providers provide customers with multiple contacts and a remote helpdesk, so if you run into a problem, there will always be someone to speak to. Also, with a service contract in place, businesses have the flexibility to add or reduce support levels according to their changing needs and budgets.
4. You are Not Getting Your Money's Worth 
We understand that businesses often operate with tight budgets, so it's crucial for business leaders to maintain high-quality IT support for their staff while managing costs. Hiring internal technical staff involves not only salaries but also pension contributions, management time, professional development, sick leave, and recruitment expenses to replace departing team members. Moreover, when in-house staff can't resolve an issue, outsourcing becomes necessary. Using an IT service provider can cover these costs and provide expert IT support, resulting in a cost-effective and efficient solution.
5. You are Concerned About Security
What would the cost of a data breach mean for your business? With the increasing prevalence of cyberattacks, protecting your business's network and computer systems is paramount. IT services companies, such as New Era, offer online security and phishing training, email security guidance, and antivirus solutions for your computers. In the unfortunate event of a security breach, they can assist with data recovery.
With extensive experience in cybersecurity support, remote monitoring, and maintenance, New Era Technology can help ensure that your network security meets the highest standards.
New Era Technology offers a range of managed service plans to suit your budget. Talk to us today to explore how your business can reduce IT costs and enhance efficiency.