Private / Public / Hybrid Cloud Hosting
Hybrid Cloud
Don't entrust the IT security of your company's management software with the public internet.
Discover the benefits of cloud computing from the high security and control of New Era Technology's hybrid cloud solutions. Protected by the New Era Technology firewall and backed by multiple local data centres, your connection to your software will be safe, secure and stable.
There is a strong case for transitioning some workloads to cloud platforms, e-mail being an obvious solution that has been delivered on cloud platforms for many years. There are inevitably some systems that cannot be migrated either for economic or performance reasons. Some software vendors require new licences to be purchased to host in the cloud, some legacy systems simply do not run optimally in virtual environments.
Private Cloud
New Era Technology is unique in that we not only deliver Cloud-hosted solutions, we also deliver the connectivity and engineering services to connect you to the cloud and migrate your systems to the cloud.
You shouldn't have to deal with the overhead of managing complex projects with multiple suppliers, contact New Era Technology to find out how easy we make our cloud services.
Hybrid Cloud
Integrate existing infrastructure with a hybrid solution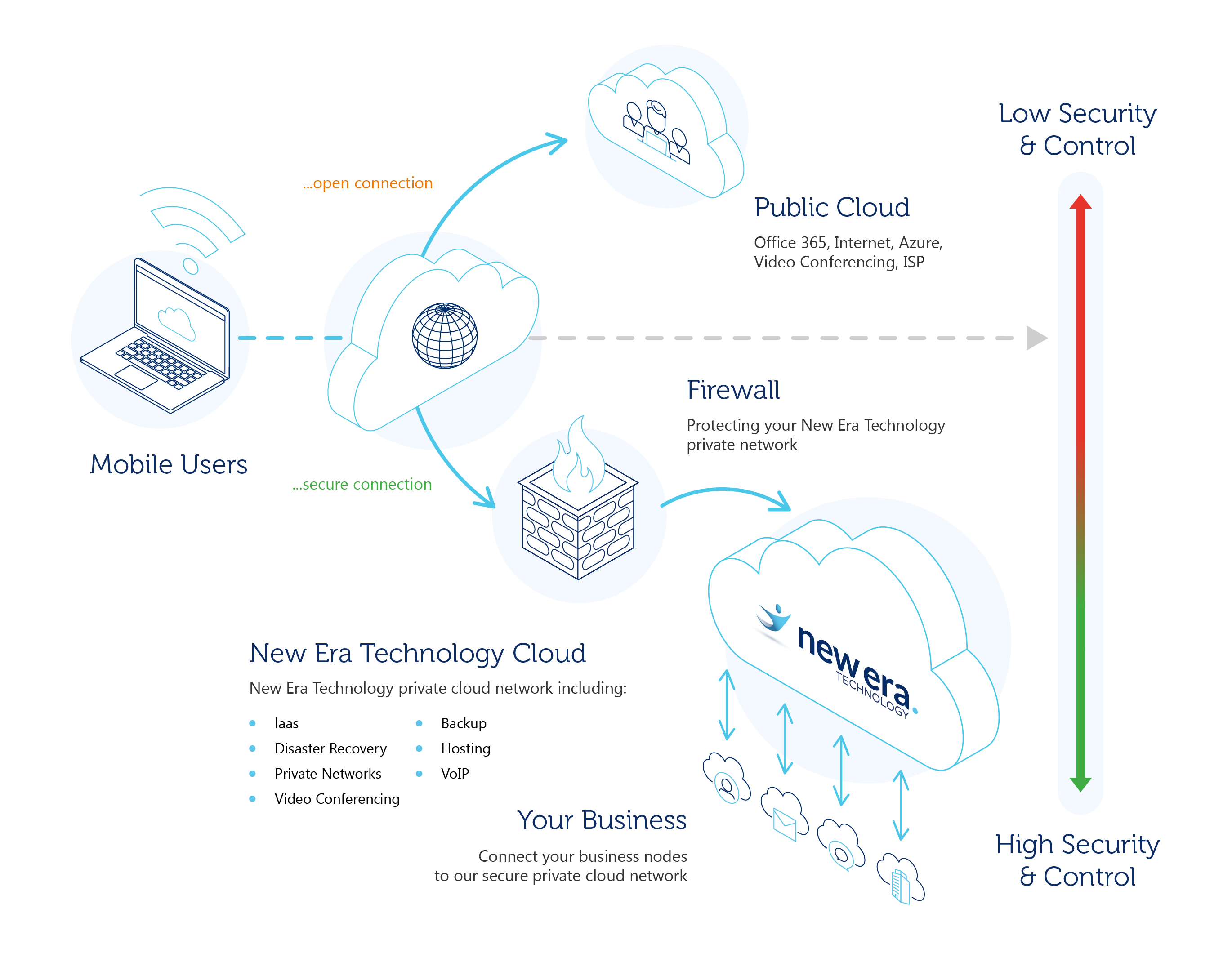 Partner with New Era Technology
We deliver solutions that are established in collaboration and innovation to provide creative solutions using the best technologies for our customers.
Diverse portfolio of technology projects with intricate designs and system integration across varied industries
120+ engineers and technicians certified by leading technology manufacturers and professional industry organisations, including Cisco,  Hewlett-Packard, Dell EMC, Microsoft and many others
Over 25 years of experience in the planning, design, and implementation of complex solutions
Access to our highly experienced support team and our 24/7 support helpdesk
Meet with a Hybrid Cloud expert
Contact us for an independent assessment of what's right for your business, be that cloud, on-premise or a hybrid solution. We are experts in this field, we look at what's right for your business and what's right for your budget before we recommend the right technology.