Downtime leads to lost productivity, customers, and revenue, ultimately hurting your bottom line.
This is why businesses cannot afford downtime and the negative consequences that come with it. It is vital to be prepared when disaster strikes. If you live in the path of regular natural disasters, you know how important it is to be prepared. However, many corporations and organisations don't take precautions with their data in case of a disaster. This type of risk can lead to damaging results.
Common Disaster Risk Sources
Whether it's a natural disaster, weather-related event, human-caused issue, or technical problem, there are many disaster risks that you must be prepared to deal with in order to secure data protection.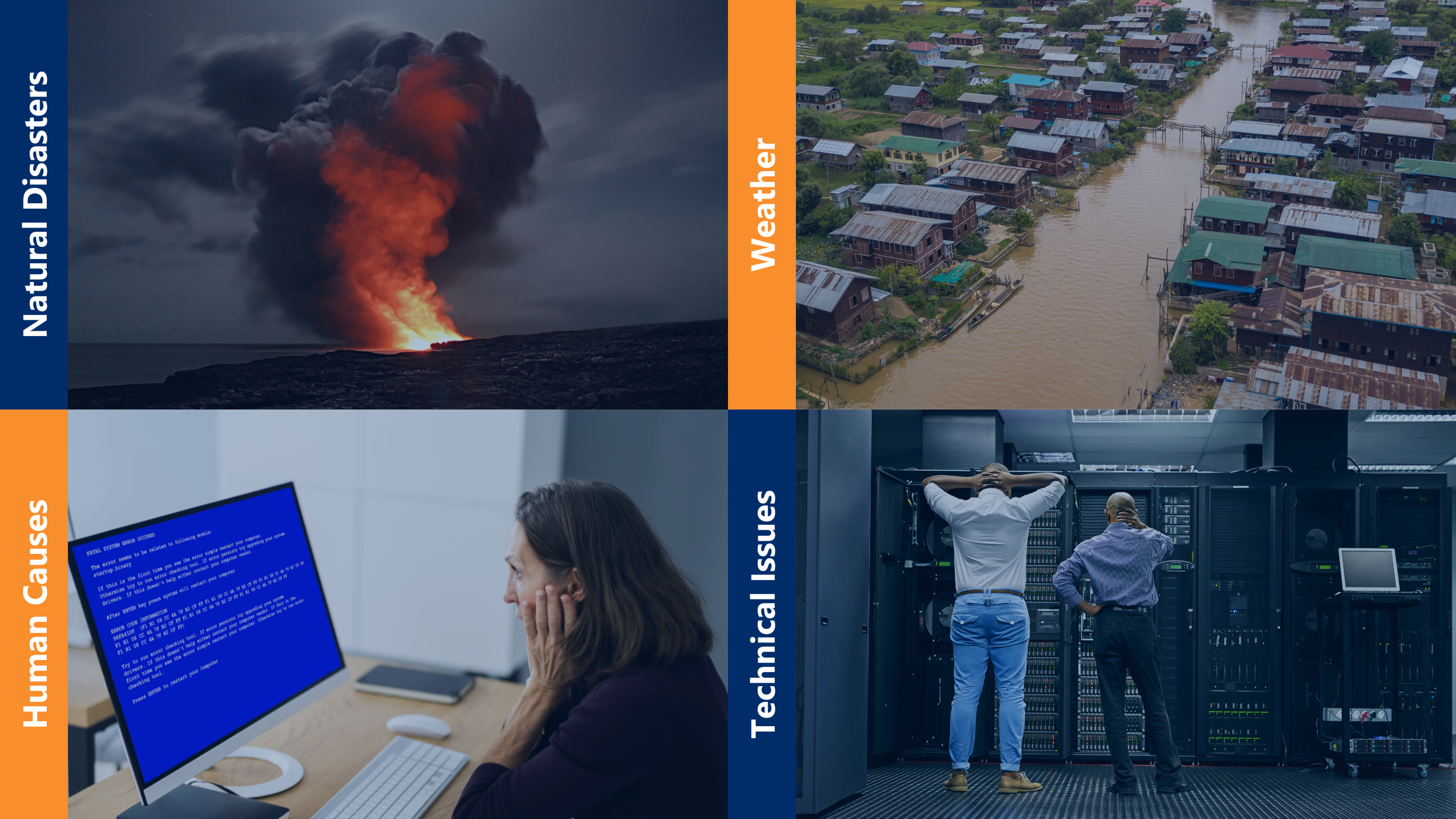 Natural Disasters: Floods, fires, tornadoes, and earthquakes are some of the natural disasters that can strike at any time and destroy your vital data.

Weather-Related Events: Major storms such as hurricanes, extreme temperatures, or high winds can lead to data loss as well.

Human Causes: Data can be lost due to human error or deliberate attacks, including cyber-attacks, vandalism, theft, or even terrorism.

Technical Issues: Many potential technical issues can result in data loss, such as hardware or software failures for various reasons.
Disaster Preparedness: How to Survive the Unexpected
The best way to prepare is to have the proper disaster recovery plan in place. New Era Technology's Disaster Recovery as a Service can help protect your mission-critical data with fast onsite backup and secure offsite replication.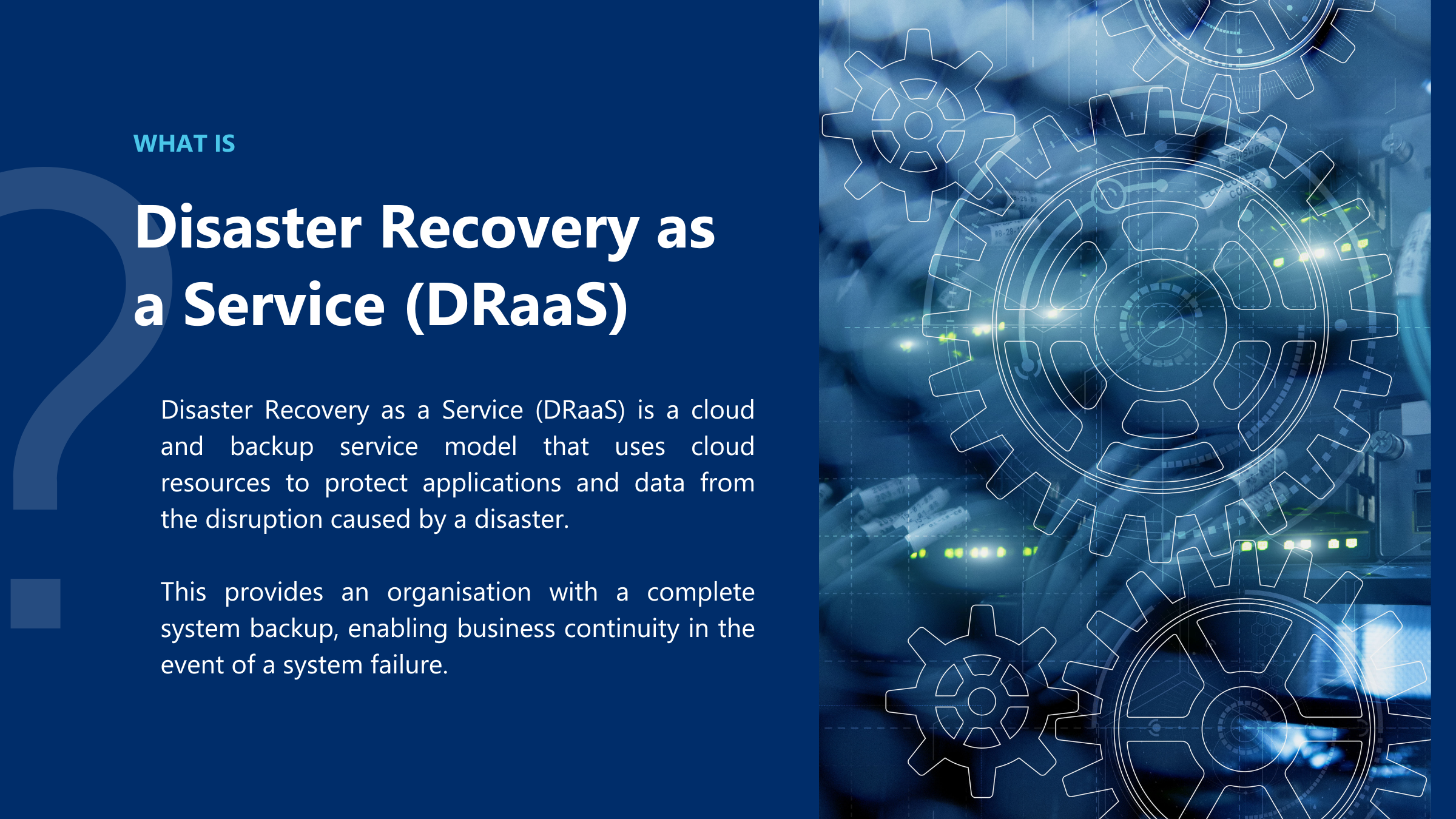 Features and Benefits of DRaaS
No one wants to lose important data without having a backup plan in place, regardless of the cause. This holds true whether you're using a personal computer at home or you have hundreds of thousands of corporate documents stored on servers at your business location. There are many advantages to implementing Disaster Recovery as a Service (DRaaS). Let's take a closer look at some of the most significant benefits of using DRaaS.
Tapeless hassle-free backup and recovery
Fast onsite server recovery
Offsite Private Cloud replication
Scalable to grow as data grows
Technical support from a trusted, local advisor
Affordable monthly billing
Lower upfront costs compared to traditional products
Start with Backup and grow into a DR solution
Don't Leave Disaster Recovery to Chance
Disasters often happen unexpectedly. That's one of the leading factors that makes them so difficult to deal with. When people or companies are not prepared to act, the complications are always compounded. Thus, when disaster strikes, you want to be prepared. That's why having the right disaster recovery plan in place is so important.
New Era can help you reliably back up, replicate, verify, and restore your data when you need it. In addition to onsite data protection, your applications and data will be replicated to New Era's redundant, secure servers and SAN storage technology, housed in a state-of-the-art data center that meets SOC2 Type II and HIPAA security standards.
Ready to learn more and discuss how you can be prepared? Please contact New Era today to discuss DRaaS and let's take a closer look at your disaster recovery plan.