 HPE & New Era Technology
HPE and New Era Technology partner to meet your needs in storage, server, networking, and IoT areas. Our global team of sales and engineers hold the latest certifications to ensure a smooth integration and management for you.
Certifications and Qualifications
HPE Hybrid Cloud Platinum Partner 2023
HPE PointNext Services Gold Partner 2023
HPE Aruba Gold Partner 2023
Competency in HPE GreenLake
HPE and New Era Technology partner to build the right solution
New Era provides extensive cloud consulting and recommendations to support your needs to scale. HPE Proliant provides you a data first strategy to with a cloud operating experience, built-in security, and optimized performance for your workloads. Watch the  video to learn how New Era and HPE can support your future needs.
Why New Era Technology + HPE
The big cloud providers do not think like us. New Era Technology and HPE understand you need a cloud-savvy team of experts to help you reach your end goal. We strive to match technology to your needs allowing you to grow to your fullest extent.
New Era Technology works with customers as a trusted technology adviser. Often a single project leads to a long-lasting partnership where we have the continued privilege of helping our customers deliver valuable technology solutions that improve efficiencies and experiences to their employees' and customers'.
HPE Perfect For The Modern Workplace
Relentless Security
Keep your business running secure, anywhere. HPE's and New Era Technology are determined to keep your business safe.
Flexible Growth
Migrating to the cloud and managing IT is difficult for any organization. New Era and HPE partner to guide you through the process.
Proven Reliability
Avoid downtime and IT troubleshooting with reliable HPE products. We stand behind our technology to ensure you maintain efficiency and productivity.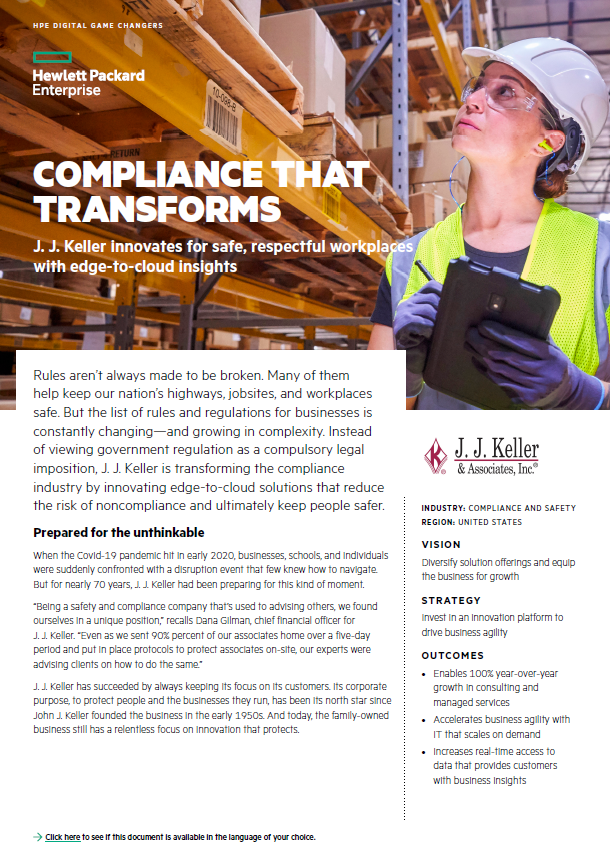 Download to see how J.J. Keller is driving innovation and increasing business agility with HPE GreenLake.
After reading this success story, you will discover ways to drive business growth using the cloud.
Meet with one of our New Era Technology experts.
Our team of technology and IT experts will work with you.