Smart Buildings: Opportunities and Risks
Smart Buildings are a burgeoning specialty in Information Technology (IT), Operational Technology (OT), and an overlap exists between those previously separate technical worlds. According to Globe Newswire, the global smart building market in 2022 was $72.8B and is expected to quadruple to over $300B in the next ten years. That growth is projected across all building types, including residential / multi-tenant residential, commercial, and industrial spaces.
The Smart Building industry is arguably still in its infancy, but the field can be viewed through several functional lenses. Some have been practical elements in building design for decades, others are more current, and some will play an outsized role in the future.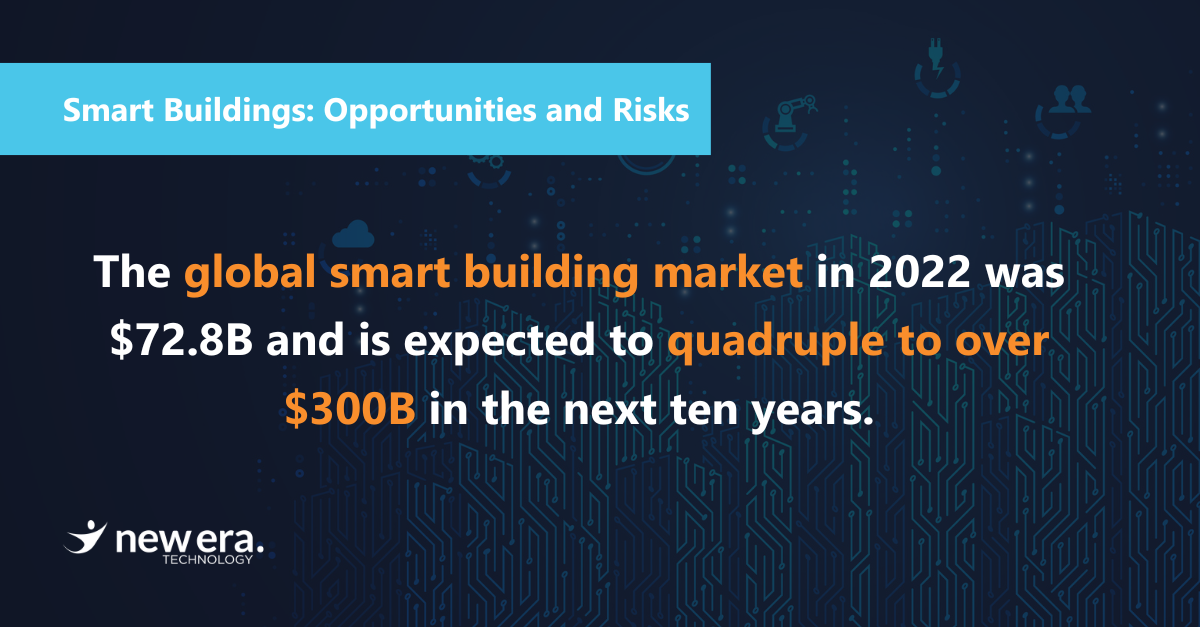 These specialty practices include:
Infrastructure
Sensors
Systems Automation and Centralized Control
Energy Management and Sustainability
Networking and Connectivity
Security and Surveillance
Data Architectures, Storage and Use
Business Intelligence (BI) and Data Analytics
Artificial Intelligence (AI) and Machine Learning (ML)
Visualization
Reporting
Cloud-Based services
New Era Technology is uniquely positioned with expertise in all these practices and has strong industry relationships to meet those areas of engagement where internal resources are not 100% capable.
This capability joins an overarching need highlighted at this year's Realcomm / IBcon meeting in Las Vegas. New Era was an exhibitor with a booth on the trade show floor. We were fortunate to meet a diverse group of attendees expressing interest in vendors that bring the deployment and integration of IT services for Smart Buildings under one roof. Customers and partners highlighted a significant gap in the market's ability to deliver managed services in real estate technology, validating our thinking.
Systems Integration
One common topic of conversation at Realcomm is systems integration. Conversation after conversation became more animated once integration capabilities were mentioned. The Digital Transformation teams, comprised of expert data, cloud and digital resources, and Technology Solutions Group colleagues, provide a wonderful blend of knowledge bridging the need for data standardization, integration, and reporting.
Data integration, though, also has many shades of grey. The systems listed above use disparate communications protocols and data structures, so linking them into a common unstructured repository like a data lake or the more current data lake house (a combined data lake and data warehouse) can be challenging. Data processes, such as normalization and reflecting sensory values in consistent units, are a constant concern. For example, equipment may represent visible light as lumens while other equipment discusses light values over a defined area in footcandles. Creating formulas to equate lumens and footcandles is not a complex task, but it needs to be considered and then done to make the different readings that are received meaningful when used in a common dashboard or report.
This simple example may be just one small part of an overall integration effort, but once you look at building automation systems, where granular data may not willingly be revealed by a manufacturer to protect what it perceives as its intellectual property, it creates challenges for the data integration teams and requires a knowledge of data integration options and sometimes a clever solution to a tough systems integration reality.
Importance of Communication
One significant risk in the Smart Building technology landscape is vendors not communicating effectively.
Ensuring the Division 28 vendor who is responsible for Access Control, and the Division 27 vendor that creates Communications and AV specs integrate and don't run duplicate cables, or worse—surveillance systems, is an ongoing concern. This concern can be greatly alleviated when most of the necessary production capital is available from a single source. It may never be eliminated completely, but it can be significantly reduced with New Era Technology as an integration partner.
Having deep experience in IT, OT, and IoT design and integration and being practiced in Project and Program Management in the built environment, you learn the solutions that work and where the pitfalls are. What's always clear is how communication is the most vital tool to be brought to bear for success.
To win across the board, you need a defined, well-communicated process with a clear understanding of the solutions to be built. Get started by learning more – Contact New Era Technology today.