New Era Technology Named North American Customer Success Partner of the Year by Genesys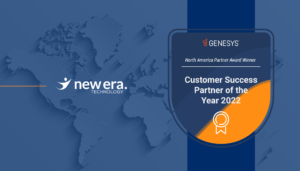 New Era Technology was recognized by Genesys®, a global cloud leader in customer experience orchestration, as the 2022 North American Customer Success Partner of the Year for its proven success in advancing and elevating customer experience and delivering superior business value to customers. 
New Era Technology has been a strategic Gold partner since 2007.  New Era and Genesys both have a global presence with specialized local reach – they focus on the customer experience journey, cloud evolution and business outcomes. 
"We are excited and proud to be recognized by Genesys for this very prestigious award. Our mission at New Era is to partner with our clients to help ensure we deliver on their strategic business outcomes. We believe this is best accomplished through implementing and supporting an extraordinary customer experience platform." – Ed McCrossen, New Era Technology 
About New Era Technology 
New Era Technology is a global managed technology service provider. New Era serves as a trusted adviser to more than 14,500 customers worldwide. Customers rely on New Era's seamless blend of solutions that securely connect people, places, and information in a rapidly changing digital world. New Era has offices in the Americas, EMEA, and APAC. New Era provides solutions and services to diverse industries, including Global Enterprise, Banking & Finance, Smart Buildings & IoT, Healthcare, Education, and Government.   
Solutions and Services:   
Collaboration & Unified Communications  

 
Data Networking  

 

Digital Transformation  

 

SecureBlu Security Services  

 

CloudBlu Cloud Services  

 

Physical Security & Life Safety  

 

Managed Services  

 

Professional Services