Students, teachers and the greater Fielding community are working together to ensure that today's Manchester Street School (MSS) students will be tomorrow's digital innovators, entrepreneurs and practitioners. In what is becoming an autumn tradition, the Odderbots MSS robotics team has just returned from the VEX global robotics competition in America with yet another award.
"The Odderbots drove their robot with precision, exemplified team spirit and enthusiasm and succinctly explained their robot design to the judges," says Geoffrey Ward, the Year 5 and 6 teacher at MSS who accompanied the team to the competition. "As a result, the team was presented with the prestigious Judges Award that recognises exemplary effort and perseverance at the event. A single win like this is noteworthy…to bring home the hardware for three years running is unprecedented."
Yet for MSS, it is business as usual.
"We are fully embracing digital technology in all its forms, for teaching, for administration and, most importantly, for inspiration to students. We see digital technology, especially the STEM (science, technology, engineering and maths) curricula, as the pathway to inclusiveness, empowerment and leadership."

– MSS Principal Glen Richardson
New Era Technology congratulates MSS for their achievements. "MSS has been with New Era Technology since September 2018," says Richard Hall, NEIT's Regional Manager in Palmerston North. "We work with primary schools up and down New Zealand and MSS clearly stands out as an example of what young people can do when given the right opportunities. In fact, New Era has donated two ACER Switch Tablet PCs and an XYZ 3D printer to the school so that they can have a dedicated resource as they prepare for their 2020 VEX title defence."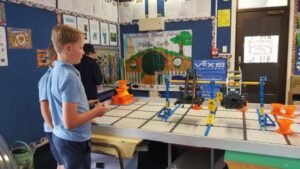 With the focus on digital, MSS requires infrastructure and a network that is secure, fast and robust. "New Era Technology has been a tremendous asset as we continue our digital transformation," explains Mr Richardson. "Our strategic plan was to move more of our digital resources into the cloud. This would give us more flexibility and scalability as our requirements evolve whilst removing many of the operational overheads that were taking up too much of our time."
"In the months since September," he continues, "our increased reliance on cloud-based technology has seen a quantum leap in responsiveness in an extremely cost-effective manner. As a result, we have been able to re-allocate funds from an infrastructure upgrade to vastly improving the device / student ratios as well as trialling a BYOD programme in our Year 4-5 cohort."
Having a responsive network is essential for robotics…not to mention communications, pedagogy and administration. "Nobody likes to wait for the screen to refresh," says Mr Ward, "especially high-energy students who are spending their lunch break testing designs for competitions. We've seen a significant increase in network speeds and storage space is no longer an issue so students can get on with the tasks at hand."
Today's students are tech-savvy and quick to pick up new opportunities.
"There are virtually no limits," says Mr Ward. "We see STEM education as a passport to future success that is inclusive, non-judgemental and inspirational. What's really amazing is that our Robotics team composition turns over every year so we can include a whole new set of students into the mix. And it's not just for the boys. Girls make up about half of the team at any given time. Plus we get Year 3 students showing interest in joining as places open up. With the reward of a trip to America on the offing, we are having no problem what-so-ever in building momentum as we move forward."
For more information on how New Era can support your school with STEM resources and technology, please get in touch.