New Era Technology has been awarded the 'Meeting and Meeting Rooms for Microsoft Teams Specialization'.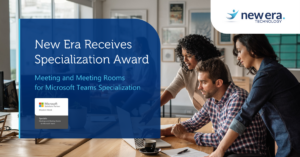 New Era Technology, a leading provider of advanced video collaboration and unified communications services and solutions, is thrilled to announce our achievement of the Meetings and Meeting Rooms for Microsoft Teams specialization. This significant milestone is a true testament to our deep knowledge and extensive experience in delivering successful deployments of Microsoft Teams and Teams Rooms for customers across the globe.
Microsoft created the Meetings and Meetings Rooms practice for Microsoft Teams Rooms to provide partners like New Era with the opportunity to prove our commitment to delivering exceptional meeting experiences for all our customers and users of the Microsoft Teams technologies.
In order to achieve this specialization, New Era Technology had to meet a comprehensive set of requirements covering specific solution partner designations, performance, internal knowledge, and real-world customer experiences.
By meeting the requirements and demonstrating expertise in the deployment of Microsoft Teams and Teams Rooms into our comprehensive customer base, we are proud to be recognized for our specialized knowledge and proficiency in configuring, customizing, and managing meeting environments within the Microsoft Teams ecosystem.
"Receiving the Meeting and Meetings Rooms for Microsoft Teams specialization proves our dedication to empowering our customers to seamlessly connect and collaborate through MSFT Teams. More importantly, it is a validation of the enhanced level of knowledge and expertise within our internal teams, which ensures successful deployments of Teams Rooms across our global customer base, time and time again.'' — Joe Gillis, VP of Sales for Global Video Collaboration
New Era remains committed to empowering organizations to embrace the future of work with efficient, reliable, and intuitive meeting solutions.
About New Era Technology
New Era Technology is a global managed technology service provider. New Era serves as a trusted adviser to more than 14,500 customers worldwide. Customers rely on New Era's seamless blend of solutions that securely connect people, places, and information in a rapidly changing digital world. New Era has offices in the Americas, EMEA, and APAC. New Era provides solutions and services to diverse industries, including Global Enterprise, Banking & Finance, Smart Buildings & IoT, Healthcare, Education, and Government.
Solutions and Services:
Collaboration & Unified Communications
Data Networking
Digital Transformation
SecureBlu Security Services
CloudBlu Cloud Services
Physical Security & Life Safety
Managed Services
Professional Services
Contact us today at neweratech.com/us/contact-us