In today's fast-paced educational landscape, reliable and innovative technology solutions are crucial to keeping a school running efficiently. As educational institutions increasingly recognise the importance of seamless IT operations, the demand for efficient IT Managed Service Providers (MSPs) continues to rise. New Era Technology understands the unique needs and challenges faced by schools and the education sector, and we are dedicated to providing tailored services to support your academic goals.
Discover the key reasons why your school could benefit from partnering with New Era Technology.
Extensive Expertise:
At New Era Technology, we take pride in our team of highly skilled and experienced professionals. With a team of almost 200 experts in New Zealand and 4,500 employees worldwide, we possess extensive knowledge of the latest technologies and industry standards. We understand that each educational institute is unique, whether it's a school, college, or university, and we tailor our solutions to meet your specific requirements. Our commitment to delivering high-quality results and ensuring customer satisfaction through cutting-edge technology and professional services sets us apart.
Local Understanding, Global Reach:
With a widespread global presence and experience working with businesses and educational institutions across multiple regions, we have gained invaluable insights into the unique challenges faced by schools in diverse areas. This understanding enables us to offer solutions tailored to your local context while backed by global expertise. Our vast network of 80+ offices worldwide and 10 offices in New Zealand along with our partners ensures seamless implementation and support, providing consistent service quality for educational institutions.
Proactive Approach to Support:
At New Era Technology, we take a proactive approach to IT support for schools and educational institutions. Our focus is on prevention and proactive action rather than simply reacting to issues. Through continuous monitoring and predictive analytics, we identify and resolve potential problems before they disrupt your academic operations.
Our dedicated help desk support ensures that you receive proactive assistance whenever issues arise, minimising downtime and maximising productivity, so your students and staff can focus on learning.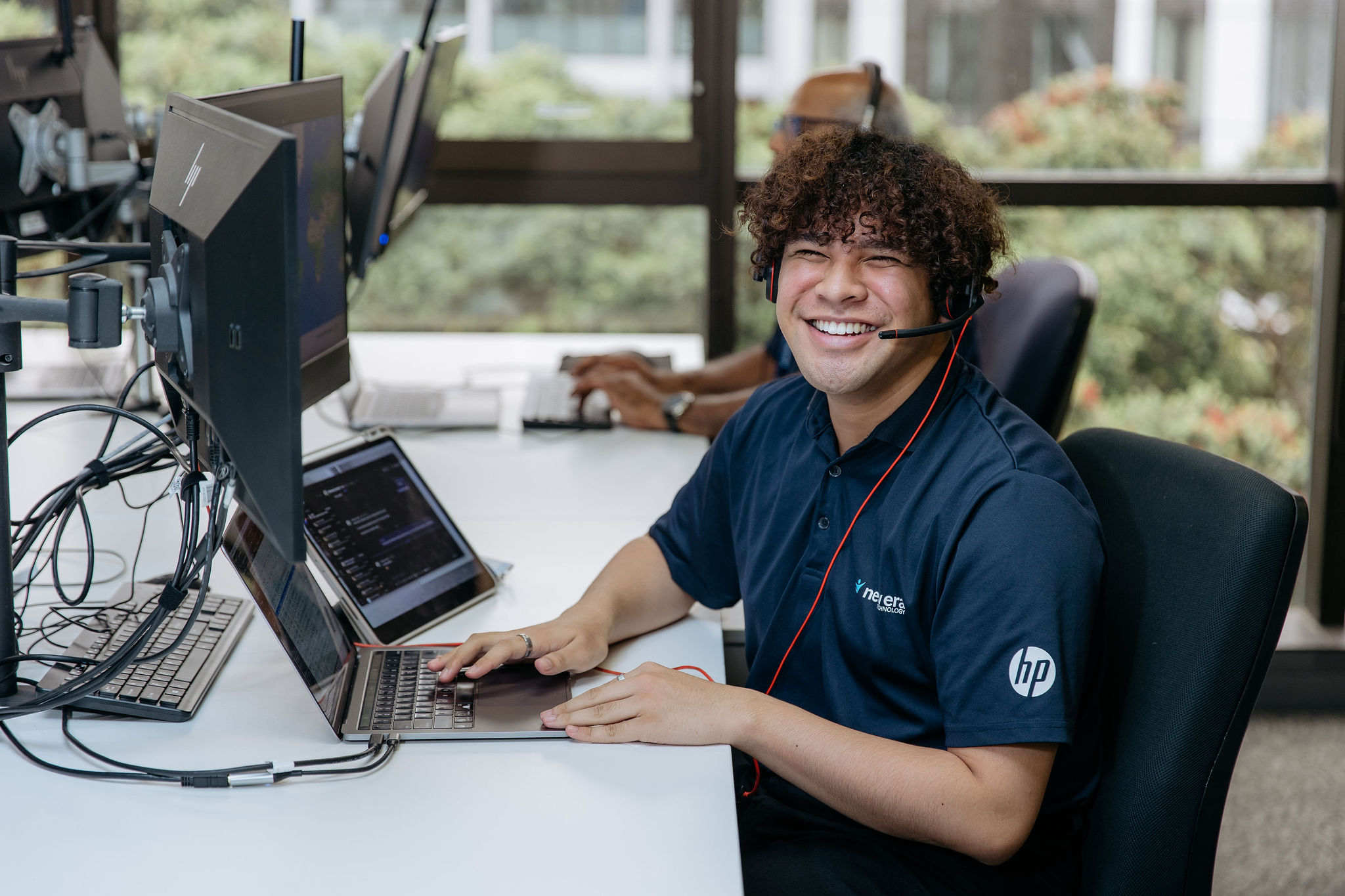 Customised Solutions for all types of schools:
We understand that the education sector has specific technology needs, which is why we design and implement custom solutions that align with your school's academic objectives and goals. Whether it's enhancing the learning experience with cloud-based solutions, ensuring robust network security, implementing technology solutions, or providing comprehensive managed services, we have the expertise to deliver solutions that meet your school's needs.
Our team takes the time to understand your school's unique processes, challenges, and growth objectives, enabling us to deliver tailored solutions that drive efficiency, scalability, and innovation in education.
Scalability and Flexibility:
As technology evolves, schools have to evolve as well. New Era Technology offers scalable solutions that can easily adapt to your evolving needs, ensuring seamless integration and minimal disruptions during growth phases.
We also provide flexible service models, allowing you to choose the level of support that best fits your budget and operational preferences. Whether it's on-premise, project based, or hybrid solutions, we can deliver the technology infrastructure that aligns with your school's specific scenarios and goals.
Comprehensive Support Throughout the Technology Lifecycle

:
At New Era Technology, we offer a comprehensive suite of services covering the entire technology lifecycle for educational institutions. From initial assessment and planning to implementation, management, and ongoing support, we provide end-to-end solutions that streamline IT operations in schools.
We also offer training and consulting services to help educators and staff maximise the benefits of their technology investments, empowering your school community to excel in the digital age.
Embracing Innovation for Educational Excellence

:
New Era Technology stays at the forefront of technological advancements, continuously exploring emerging trends and solutions to help schools leverage the latest innovations in education.
By embracing digital transformation and staying ahead of the curve, we strive to empower educational institutions to gain a competitive edge in providing an exceptional learning experience. Our collaborations with leading technology vendors and partners ensure that we deliver cutting-edge solutions that cater to your current and future needs.
If you believe your school or educational institution could benefit from partnering with an MSP like New Era Technology, we are here to address any questions you may have! Our focus is on supporting the unique needs of the education sector to foster academic success and drive excellence in learning.