Have you considered and implemented strategies to mitigate your ICT operational risk?
Introducing our flexible managed services package as your school's 'plan B', ensuring continuity of teaching and learning.
If your school has an in-house ICT person or team, you might think you've got all your technology needs under control. However, over the past two years, we've found out that anything can happen and that we need to prepare for the unexpected. For example, what if your ICT person gets so unwell, they need to be hospitalised due to contracting COVID-19 or any other illness? Further, are you confident your ICT person or team has access to professional and qualified expertise as required?
Good news: there is an option to give you an extra layer of assurance
As the largest ICT managed services provider for schools in New Zealand, we can help. Our newest managed service agreement can give you your 'Plan B' – a second option you can rely on to mitigate your risk. For a low monthly fee, you can access our flexible managed services for schools. This plan provides certainty that you'll be able to keep your technology running, so you can continue to focus on delivering great educational outcomes.
With a large team and national reach, we have the resources to keep your school's ICT requirements going in difficult times, or provide guidance to ensure your ICT strategy is sound. Our team has specialist knowledge in education, so we know how important it is to ensure teaching and learning continues, despite technology issues and projects. We can provide a safety net to support your team if the unexpected happens or if your team need some extra feet on the ground.
Why opt for a managed service with New Era Technology?
Most importantly, this managed services package gives you peace of mind that you have done everything possible to ensure continuity for your school. It's an affordable option to give your school's Board of Trustees and leadership team reassurance that your school has a team in the wings you can rely on if things go off track.
Partnering with New Era Technology gives you access to deep expertise that your in-house ICT team may not have. With our newest managed services agreement, which can be paid in a single annual fee or flexible payment instalments to suit your school, you have an adaptable approach to managed services. This includes: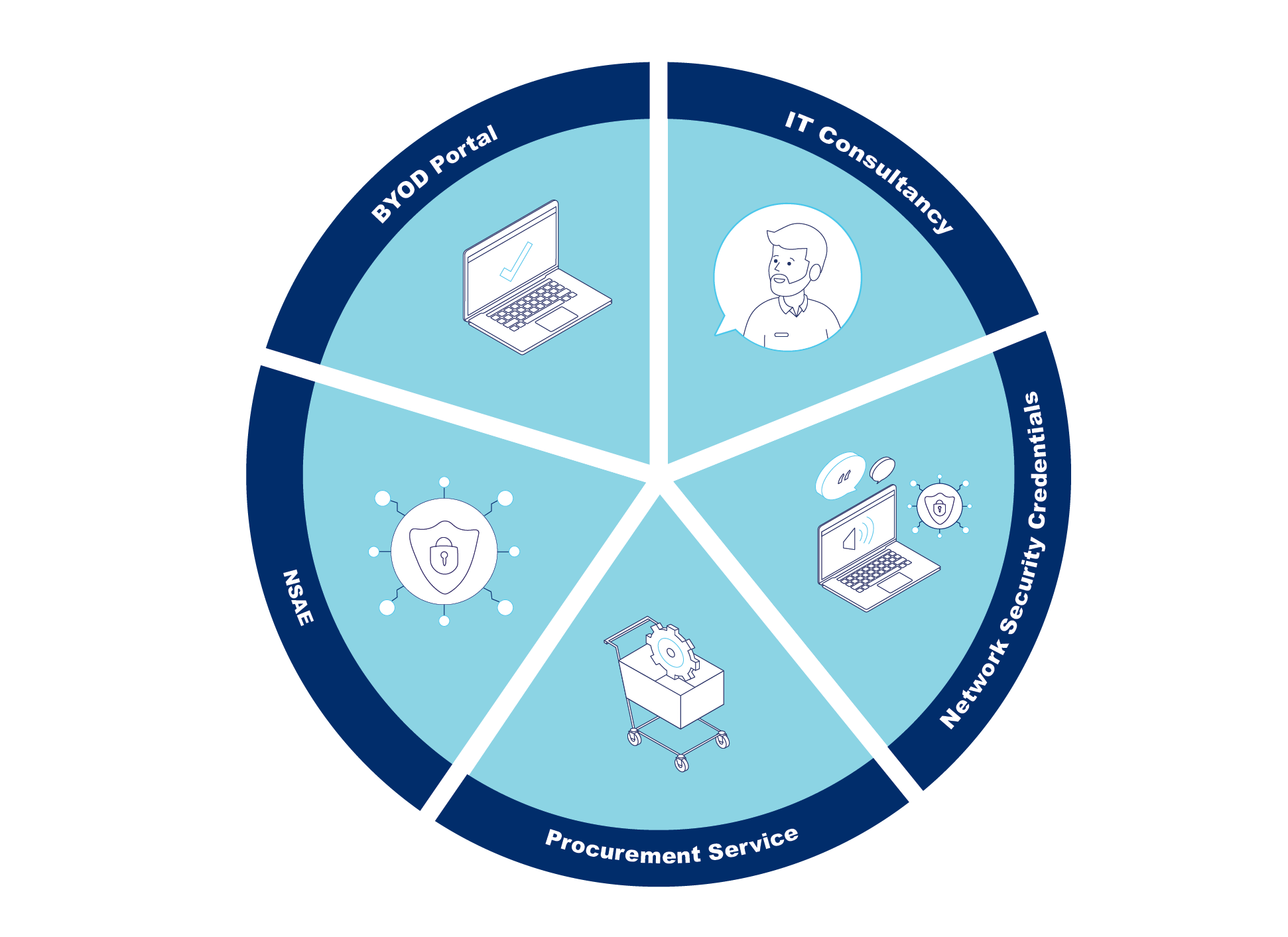 Not only do you receive a BYOD and Procurement service, we include some key ICT security aspects that help your school to be proactive around network security. As a result, your in-house team can continue to focus on supporting your school's core ICT services that enable quality teaching and learning outcomes; with the assurance that the best security measures have been put in place and specialist support is available to call on when needed.
An option that adapts to your needs
One of the biggest benefits of our new agreement is the flexibility offered. You can use your 24 hours for business-as-usual support if your in-house team is unexpectedly out of action. Alternatively, you can take advantage of our team to get specialist advice for a new project.
Under the engagement model, your school gets access to 24 hours of consultancy annually, which you can use across a range of services offered by New Era Technology.
Here are just a few examples of how our consulting could benefit your school:
1 – Quality Assurance Checks
As one of the largest providers to the education sector in New Zealand, we can work with your school's ICT team when implementing a new solution. Use some of your hours to gain assurance that the plan is within best practice for ICT.
2 – Audits
Our team can help with audits around infrastructure and security. Gain an independent perspective including assurance and recommendations for your school.
3 – Procurement advice
Wondering if Chromebooks are the best choice for your school? Perhaps you think iPads will provide better flexibility? Should you lease your devices? We can help you to assess available options, as well as provide our free procurement service to give you competitive pricing from our network of suppliers.
4 – BYOD planning and management
In a school environment, opting for a bring your own device (BYOD) program comes with its own set of challenges. It's important for student devices to have the right software and, of course, managing security is critical too. We can provide you with a BYOD portal to manage requirements, as well as options for students and their families to purchase your school's recommended devices.
5 – ICT project support
Whether you need Wi-Fi upgrades, server imaging, or installing new projectors or smartboards, we can help to plan, procure, install and deploy projects in a structured and streamlined way with minimal interruption to staff and students. We have a large team across New Zealand and can assist in rolling out the projects.
Do you want access to flexible managed services support for your school?
If you think your school could benefit from a flexible managed services option that gives you certainty and support to deal with the unexpected, let's talk.
If you are looking for a plan that gives you reassurance that ICT experts are familiar with your technology setup in case things go wrong, we have a managed services package that is suitable. It is an affordable alternative that provides extra knowledge to your in-house ICT team, as well as pre-paid consultancy hours you can put towards troubleshooting or forward planning.
Alternatively, we have plans to suit schools that want a more hands-on approach to ICT management. Take our online quiz to see if we have an option suitable for your school.
Want to know more? Contact our team to see what is best for you.